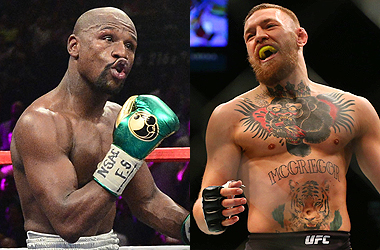 Editor's note: According to The Sun, the fantasy fight between boxing champion Floyd Mayweather Jr. and MMA superstar Conor McGregor is going to happen with both sides agreeing to terms. Although, that same publication announced last spring that the deal was signed and sealed, but those reports were debunked by both camps. Jason Logan dove into the odds for this fight when it was first rumored back in May 2016.

So, what happens when the most polarizing personality in boxing takes on the most polarizing personality in MMA? Polarizing oddsmaking, that's what.

Twitter quickly boiled over when reports of a possible boxing matchup between undefeated and retired (?) champion boxer Floyd Mayweather Jr. and UFC lightweight holder Conor McGregor surfaced, with fight fans' reactions ranging from volcanic excitement to a slow shake of the head.

One sportsbook wasted little time capitalizing on this buzz back in the spring. Online book SportsInteraction.com quickly opened odds, not only on the potential Mayweather (-10,000) vs. McGregor (+1,500) bout but if the estimated $154-million fight ($144 million for Mayweather/$10.1 million for McGregor) would even take place (Yes EVEN/No -141). Those fight odds have since come down, with Mayweather at -1,350 and McGregor paying out at +635.

Renowned boxing and MMA oddsmaker Joey Oddessa agreed with the opening numbers when the fight was first mentioned, also setting Mayweather at -10,000, but isn't going to be sending out this option to his sportsbook clients anytime soon.

"Let's keep things real. Floyd would fight Conor one time and Conor would get schooled so badly he'd have to register two losses on his boxing record," Oddessa tells Covers. "One day the world will finally get over the whole boxing versus MMA thing. They are two different sports."

"Floyd's dad told me Floyd would never entertain an MMA bout, so why bother," Oddessa says of setting odds on a fictional Mayweather-McGregor MMA bout. "But Conor would be a healthy favorite, maybe -1,500 or higher and you would be giving it away at that low a price."

Oddessa believes that if you took Mayweather out of the boxing gloves and placed him into any other sport - "Ronda Rousey would ippon Floyd Mayweather into obscurity in a judo match just like Tony Ramos would tech Floyd in wrestling match" - he would be a sizable underdog. And on the other side of the argument, if you placed other accomplished martial artists and combat athletes into a boxing ring with the man known as "Money", Mayweather would make quick work of them.

Mayweather has been in retirement since picking up win No. 49 over Andre Berto last September but there have been rumblings of a return to the ring in recent months. He does have some verbal history with McGregor, who once told reporters we could, "knock Mayweather out in 30 seconds."

"McGregor is making the most money in his limited time in the spotlight," says Oddessa. "I would have expected him to go the WWE route first but that will always still be on the table for the polarizing mixed martial arts champ who is coming off one of his three career losses that make up his 19-3 record.

"And if a day comes that Conor runs into desperation, ESPN and their popularly televised Nathan's Hot Dog eating contest would pay pretty well for an Irishman to sit alongside Matt Stonie, Joey Chesnut and Kobayashi and lose on American Independence day."

According to The Sun's sources, the mythical Mayweather-McGregor showdown would be strictly boxing rules with McGregor forced to drop 25 pounds before the fight, has yet to have an official fight date.

The latest rumor swirling about is that Santa Claus will FINALLY face the Easter Bunny on the undercard. Hey, can we get some odds on that one too?