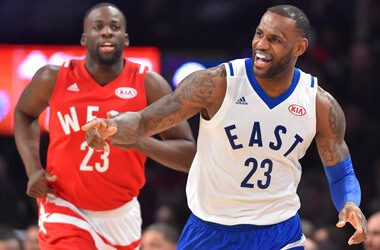 Western Conference vs. Eastern Conference (+6.5, 353.5)

The best basketball players in the world descend on Smoothie King Arena this weekend in the 66th edition of the NBA All-Star Game - and for those who crave drama, there should be plenty to go around in this one. Both the defending champion Cleveland Cavaliers and the runner-up Golden State Warriors are well represented, boasting four of the 10 starters. And then there's the reunion of Oklahoma City Thunder point guard Russell Westbrook - the two-time defending All-Star MVP - and former teammate Kevin Durant, who gets the start at small forward as a member of the Warriors.

The other major point of intrigue: Just how many points the two teams will score. The annual superstar showcase has always been defense-averse, but last year's edition in Toronto took that to a whole other level as the teams combined for an absurd 369 points - 50 higher than the Vegas total. The West pulled out a 196-173 victory between 31 points from Westbrook, and will undoubtedly be looking to do even better against the LeBron James-led East Roster. The West has prevailed in five of the last six All-Star Games, with Durant and Westbrook combining for three MVP awards in the past five years.

**video

TV: 8 p.m. ET, TNT, TSN

LINE HISTORY: The Western Conference opened as 5.5-point favorites and that number was bet up to 6.5 by Sunday afternoon. The total for Sunday night is set at 353.5. View complete line history here.

WHAT SHARPS SAY: ""The Eastern Conference is 37-28 SU since the NBA All-Star game began in 1951, but the West has dominated recently going 5-1 SU the past six years. However, most of those games were close with victories by just 5, 3, 5, and 5 point margins until last year's easy 23-point victory. The most interesting element this season is how the Thunder's Russell Westbrook will respond when playing on the same squad as four Golden State Warriors, including his former OKC teammate Kevin Durant." - Covers Expert Steve Merril.

WHAT BOOKS SAY: "We are looking for Russel Westbrook to have a standout game, as he is likely the person on the court with the most to prove. The West will likely dominate, but its going to be interesting to see how Kawhi Leonard will impact the game from the West, considering he is one of the best defensive players in the league, playing in a game that is known for its lack of defense." - Line manager, GTBets.eu.

ROSTERS (* - injured and will not play)

East Starters: PG Kyrie Irving, SG DeMar DeRozan, SG Jimmy Butler, SF Giannis Antetokounmpo, SF LeBron James
East Reserves: PG Isaiah Thomas, PG John Wall, PG Kyle Lowry, PG Kemba Walker, SF Paul George, PF Paul Millsap, PF Kevin Love* (replaced by Carmelo Anthony)

West Starters: PG Stephen Curry, SG James Harden, SF Kevin Durant, SF Kawhi Leonard, PF Anthony Davis
West Reserves: PG Russell Westbrook, SG Klay Thompson, SF Gordon Hayward, PF Draymond Green, PF DeMarcus Cousins, C Marc Gasol, C DeAndre Jordan

ABOUT THE EASTERN CONFERENCE: More than in previous years, this All-Star game will feature a significant contrast in styles. The Eastern Conference is rolling with an ultra-small lineup, with only one true power forward in Millsap and zero centers on the roster. It will be interesting to see how East head coach Brad Stevens employs the five point guards on the roster; don't be surprised to see Thomas used at shooting guard, given his propensity for shooting. A Butler-Antetokounmpo-James pairing has a significant athletic advantage over whatever three-man frontcourt the West will use, and should have no trouble exploiting it.

ABOUT THE WESTERN CONFERENCE: The West has been a frighteningly efficient unit for more than a half-decade - and that isn't about to abate in 2017 as Harden, Leonard and Davis join Curry and Durant in what might be the best starting unit in All-Star history. And if that weren't enough, the West has triple-double machine and All-Star legend Westbrook coming off the bench. A significant size advantage would come in handy in the regular season, but it won't help the West much in a game like this - so don't be surprised to see Gasol and Jordan take a backseat to more athletically versatile big men in Green and Cousins.

ALL-STAR GAME MVP ODDS (SportsInteraction.com):

Russell Westbrook +350
Stephen Curry +600
Anthony Davis +650
James Harden +700
Kevin Durant +700
LeBron James +700
Kyrie Irving +750
Giannis Antetokounmpo +1100
Kawhi Leonard +1500
Isaiah Thomas +1500
Jimmy Butler +2200
Paul George +2500
DeMar DeRozan +2800
John Wall +4500
Carmelo Anthony +4500
Klay Thompson +4500
Kyle Lowry +4500
DeMarcus Cousins +5500
Draymond Green +5500
Kemba Walker +6500
DeAndre Jordan +6500
Gordon Hayward +7000
Marc Gasol +8000

TRENDS:

* West is 4-2 SU and ATS last six All-Star Games
* Favorite has covered in each of last four years and is 4-2 ATS last six games
* Last three ASG have gone Over the total and Over is 5-1 last six games
* The West is averaging 159.5 points over the last six games.
* No All-Star team has scored fewer than 138 points since 2009.
* The East has won both previous All-Star games played in New Orleans.