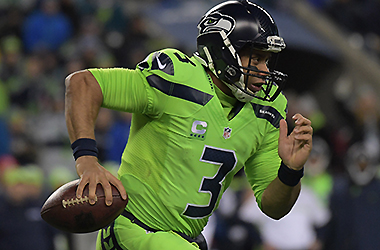 We're down to eight teams in the quest for Super Bowl supremacy, which means that just two weeks remain for daily fantasy players looking to score big. Here's a breakdown of the eight quarterbacks in action this weekend, listed by their DFS viability:

Usable in All Formats

Tom Brady, Patriots (vs. Texans, $8,600): Spending up at quarterback might make things tricky if you're hoping to roster Pittsburgh RB Le'Veon Bell, WR Antonio Brown or both - but you don't want to be the guy who faded Brady in what should be one of the easiest playoff matchups he has ever had. Brady is a lock for multiple touchdowns, and should play into the fourth quarter no matter how one-sided the game gets - so swallow hard and spend up. You'll be glad you did.

Matt Ryan, Falcons (vs. Seahawks, $8,300): Ryan might actually be the best play of the weekend, with Atlanta averaging a whopping 35 points per game at home during the regular season and this game boasting a total north of 50. The Seattle defense is still fearsome, but its teeth are much duller on the road - with Ryan having performed at an MVP level for the majority of the season, the Seahawks might struggle to contain him even if they're playing at a high level.

Cash Game Options

Dak Prescott, Cowboys (vs. Packers, $7,700): It's impossible to know what to expect from Dallas' rookie quarterback, who exceeded expectations all season long in place of the injured Tony Romo. One thing is for certain, however: He likely won't make any silly mistakes, and should be able to move the ball at home against a decent-but-not-spectacular Green Bay defense. Look for Prescott to establish the highest floor of any QB option, though his ceiling doesn't rival that of the two guys listed before him.

Russell Wilson, Seahawks (at Falcons, $8,200): There's no question Wilson can move the ball in Atlanta - oddsmakers certainly believe in him given the high game total - but the price is a little too high for him to be considered an all-format play. Look for Wilson to try and keep up with the Falcons' breakneck pace, which could mean abandoning the running game in the second half if things get out of hand. Wilson's floor should be secure, though he probably won't pay off in tournament play.

Tournament Options

Aaron Rodgers, Packers (at Cowboys, $8,800): It doesn't matter how well Rodgers has been playing - he shouldn't be the highest-priced quarterback this week, and might struggle to return value against a vaunted Dallas defense. Still, you can't count Rodgers out - and he has the skill set to explode if he can exploit weaknesses in the Cowboys' secondary. Use him in some of your GPP lineups - but only if wide receiver Jordy Nelson is playing; if he isn't, Rodgers should be faded.

Ben Roethlisberger, Steelers (at Chiefs, $8,100): We get it. Home Ben good, road Ben bad. But here's the thing: Pittsburgh's offensive line is among the most underrated in football, and has kept Roethlisberger upright for a good part of the season. And with Bell and Brown also in the fold, you can never really rule him out no matter where he's playing. He could easily post a single-digit fantasy score this weekend, but he's too good not to chance in one or two of your GPP lineups.

Recommended Fades

Brock Osweiler, Texans (at Patriots, $7,000): Want to save money to spend up elsewhere? Don't do it at quarterback - and definitely not with Osweiler. He faces a mammoth undertaking this weekend against a coach in Bill Belichick who is better at game-planning for opposing QBs than anyone in the league. Osweiler's ceiling is low, and his floor is zero.

Alex Smith, Chiefs (vs. Steelers, $6,800): Smith might seem like a smart choice given the home-field advantage and his aversion to bad passes, but there just isn't much upside here. The Chiefs know they'll need to beat Pittsburgh on the ground, relegating Smith to game-management duties; you're far better off forking over the extra $1,500-$2,000 for a high-upside option.