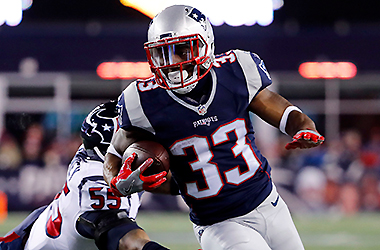 While there's still much to be decided in the NFL - this weekend's AFC and NFC Championship Games will determine which two teams will duke it out in Super Bowl LI - it's the last taste of football action this season for daily fantasy players.

Which players should you roster this Sunday? Which ones should you avoid? Here's a breakdown of the final fantasy slate of the campaign, with players rated from 1-10 based on their tournament format viability (*: if healthy):

NFC Championship

Green Bay Packers at Atlanta Falcons

Quarterback

Matt Ryan, ATL ($9,200): 9
Aaron Rodgers, GB ($9,600): 8.5

This game has the makings of a real barn-burner, both in real life and in daily fantasy. Both quarterbacks have terrific prognoses, with their offenses humming and the opposing defenses sporting significant question marks. Ryan is the better overall play, by virtue of having home-field advantage and a slightly lower salary than Rodgers. But you really can't go wrong with either guy.

Running Back

Devonta Freeman, ATL ($8,000): 8.5
Ty Montgomery, GB ($6,900): 7.5
Tevin Coleman, ATL ($6,300): 5.5
Aaron Ripkowski, GB ($4,900): 2.5

Freeman is a threat to gouge the Packers both on the ground and through the air; the narrative of Green Bay having an elite run defense was largely built on premium matches earlier in the season, and the truth is that the Packers' run D is nothing spectacular. Montgomery should also see plenty of action, especially if Green Bay is without both Jordy Nelson and Davante Adams. Coleman is a home-run play, but has a rock-bottom floor. Ripkowski should be avoided in all formats.

Wide Receiver

*Julio Jones, ATL ($8,800): 9.5
Randall Cobb, GB ($6,500): 8.5
*Jordy Nelson, GB ($8,000): 6
*Taylor Gabriel, ATL ($6,000): 6
*Davante Adams, GB ($7,600): 6
Mohamed Sanu, ATL ($5,800): 4

Both teams have banged-up receivers, but the Packers are in far worse shape amid word that Nelson is a longshot to play. Adams gets a bump if Nelson is out, but Cobb is the real value play in this one as the only truly healthy Green Bay receiver. Jones should tear the Packers' pass defense apart, and must be rostered despite the sky-high salary. There should be plenty of targets for everyone, but Sanu can't be trusted based on his season workload.

Tight End

Jared Cook, GB ($6,400): 6
Austin Hooper, ATL ($4,500): 4

None of the four tight ends starting this weekend are particularly great plays; Cook is far and away the player with the highest ceiling, but his price might dissuade those looking to use the position to save money. Hooper showed flashes in the regular season, but has also had his share of dud games; take a flier if you're in a bind, but be ready for the possibility of a zero.

Kicker

Matt Bryant, ATL ($5,000): 7
Mason Crosby, GB ($4,900): 6

There may be a $100 gap in Crosby's favor, but Bryant is the slightly better play by virtue of Atlanta's superior implied total.

Defense/Special Teams

Atlanta ($4,100): 4
Green Bay ($4,000): 3

I wouldn't want to start either one of these defenses - and neither should you.

AFC Championship

Pittsburgh Steelers at New England Patriots

Quarterback

Tom Brady, NE ($8,300): 9
Ben Roethlisberger, PIT ($8,000): 6

It would be hard to bet against Brady at home - so don't. He's not only one of the best playoff performers in NFL history, he has also been nearly unbeatable at home. The Steelers' offensive prowess actually works in Brady's favor here, as he'll likely see a healthy pass volume for most of the game. Big Ben guides one of the league's most impressive offensive attacks, but has been far worse on the road than he has been at home. Brady is clearly the better choice even with the price gap.

Running Back

Dion Lewis, NE ($7,000): 8.5
Le'Veon Bell, PIT ($9,500): 7
LeGarrette Blount, NE ($6,500): 5.5
James White, NE ($4,500): 2.5

Bell might be a better running back, but for you to roster him at this price would require some roster wizardry. Don't mess around with trying to fit him into your tournament lineups; instead, opt for the red-hot Lewis, who scored three touchdowns in last week's divisional round victory and is a threat to break a big play every time he touches the ball. Blount is a decent option if the Patriots go ahead, as he'll be asked to wind down the clock. But as seen last week, his floor is alarmingly low.

Wide Receiver

Julian Edelman, NE ($7,800): 9.5
Antonio Brown, PIT ($8,400): 8
Chris Hogan, NE ($5,500): 5.5
Eli Rogers, PIT ($4,900): 4

If Brady is going to be successful, it will require plenty of help from Edelman - and with 13 targets in each of the previous two games, there is no better receiver to slot into your tournament lineup. Brown is no slouch, but his upside is capped by Big Ben's struggles away from Pittsburgh; at $600 more than Edelman, he'll be hard-pressed to be the best No. 1 receiver on the slate. Hogan is a home-run play after racking up 95 yards last week. Rogers is little more than roster filler.

Tight End

Martellus Bennett, NE ($5,500): 4
Jesse James, PIT ($5,400): 4

Neither tight end in this game is a particularly attractive option, though both should see at least one red-zone look. If you decide to take one, lean toward James, who is coming off a big game against Kansas City and is more of a factor in the passing game.

Defense/Special Teams

New England ($4,400): 8
Pittsburgh ($4,200): 4

The Patriots defense is primed to be the best of a bad bunch this weekend, if only because Roethlisberger is prone to mistakes on the road. Don't risk taking the Steelers defense against the Patriots in New England. It just isn't a good idea.