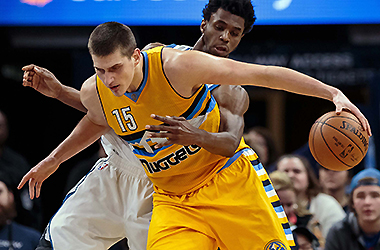 We all know who are the best players in the NBA, but these superstars come at a premium price in daily fantasy. Monty Andrews is here to help you find the best bang for your buck when shopping for high-priced talent.

Here are the top high-salary daily fantasy options for this week in the NBA:

Tuesday - C Karl-Anthony Towns, Timberwolves (at Suns)

You'll pay a pretty penny for the second-year star, but he has been worth every penny so far in January, having returned cash-game value five times over his past seven games and tournament value on three occasions - quite the feat for a player with his price tag. The seven-footer has posted double-doubles in both of his meetings with Phoenix this season, and it looks quite likely that he'll rack up a third unless he gets injured or finds himself in foul trouble. Pay up; you'll be glad you did.

Wednesday - PG Russell Westbrook, Thunder (at Hornets)

Westbrook will be a fixture on this list for the remainder of the season - but you'll need to stick to the best possible matchups in order to paying up for his exorbitant salary. This week, the Thunder play three games - and you'll probably best off avoiding Westbrook on Thursday against Dallas, with Oklahoma City playing the back end of a back-to-back. Sunday's game in Cleveland is dangerous, too - which leaves Wednesday's game against a Hornets team that has surrendered 70 points to Westbrook in two games.

Thursday - C Nikola Jokic, Nuggets (vs. Suns)

Jokic is officially in nosebleed territory from a salary perspective, going from $6,600 at the end of December to a whopping $10,200 in Sunday's loss to the Timberwolves. Reaching tournament value six times in a 12-game span will drive anyone's price up - but you can still mine value here. Jokic put together three consecutive 50-point fantasy performances before settling into the 30s against the Clippers and Minnesota; as the focal point of the Denver offense, a return to the 50-point plateau could come anytime.

Friday - SF LeBron James, Cavaliers (vs. Nets)

You always run a risk by selecting James, particularly at home against a far inferior team. What if he only plays 24 minutes? It's a legitimate concern, but there's no guarantee Cleveland will blow Brooklyn out. And even if the Cavaliers do build a big lead, the chances are good that it will be on the strength of some great work from James. The Nets run the fastest pace in the NBA, so expect the points to come in waves - and King James should get himself plenty, even in limited action.

Saturday - SF Giannis Antetokounmpo, Bucks (vs. Celtics)

Anytime two teams ranked in the top 10 in offensive rating square off against one another, daily fantasy players rejoice. This game will have no shortage of great fantasy options, but Antetokounmpo rises above the rest by virtue of his ability to stuff the stat sheet, even when his shot isn't falling. A consistently sky-high salary prevents Antetokounmpo from returning tournament value, but he's a great cash-game choice thanks to one of the highest floors in the league.

Sunday - SF Kevin Durant, Warriors (at Trail Blazers)

It can be tough to justify rostering a Golden State player regardless of the matchup. But it would be foolish not to consider taking Durant in this one; not only is his salary more reasonable than the league's elite, he has been on a roll against Portland of late, averaging 56.8 points in the last two meetings between the teams. The Trail Blazers have the fourth-worst defensive efficiency in the league, and Durant and the Warriors will be all too happy to exploit that.